Veranatura - Reliable Finnish Incoming tour operator / DMC - Cycling Holidays in Finland
Responsible and sustainable tourism
Sustainable tourism is economically profitable without destroying environment or local cultures. Protecting nature and its diversity is crucial, and thus it is important to minimise the negative environmental effects caused by tourism. Sustainable tourism can help to maintain the biodiversity of nature and even to protect endangered animal and plant species. In tourism fuel needed for transportation is the biggest consumer of natural resources. Walking and cycling are ecological and sustainable ways of travelling. Responsible tourism respects local people, cherishes cultural heritage and values, as well as promotes tolerance for and understanding of different cultures.
What you can do
Choosing a cycling holiday is choosing sustainability. You can support local economy by buying local food, products and services. Tourism income can be used for example for the education of the local people or for the protection of animals and environment. By cherishing the values of sustainable development you can help destinations to preserve their own, local nature and culture. Therefore, please do not litter or destroy the nature and please respect the local culture and manners. A responsible traveller respects also the ethical and moral guidelines related to photographing and privacy. If photographing is forbidden, the rule is to be followed. When photographing local individuals, it is polite to ask permission to it first. We hope that our customers could commit themselves to the principles of sustainable development and choose the most sustainable way of acting and travelling whenever it is possible. You are leaving on a holiday in order to escape from everyday life, to have quality time and to acquire new experiences; in other words to nurture your own wellbeing. That is sustainable development, too.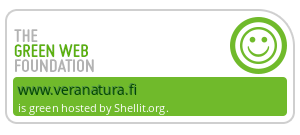 © Copyright Veranatura.
Veranatura is a Finnish incoming tour operator / DMC specialized in cycling holidays in Finland.